Titleist Vokey SM7 Wedge
MORE CONFIDENCE.
LOWER SCORES.
Precise Distance Gapping
Progressive CG creates precise distance gaps and trajectory control. Know exactly how far each wedge will fly and dial in your yardages.
Maximum Spin
Spin Milled Grooves optimize spin, control, and consistency for more confidence on all wedge shots.
Ultimate Versatility
Vokey wedges grinds are played, proven and perfected on Tour, helping to create shot versatility for any level of player in any type of condition.
HOW CONFIDENCE IS CRAFTED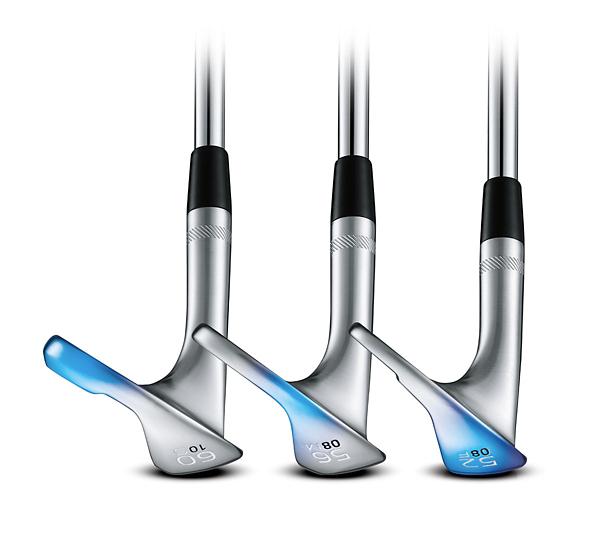 PROGRESSIVE CENTRE OF GRAVITY
The centre of gravity (CG) can vary slightly between different lofted wedges, based on the bounce and sole grind of the wedge. Vokey Design SM7 wedges feature a progressive centre of gravity, optimised for each loft, bounce and grind for improved distance control, tighter shot dispersion and exceptional feel throughout the wedge set.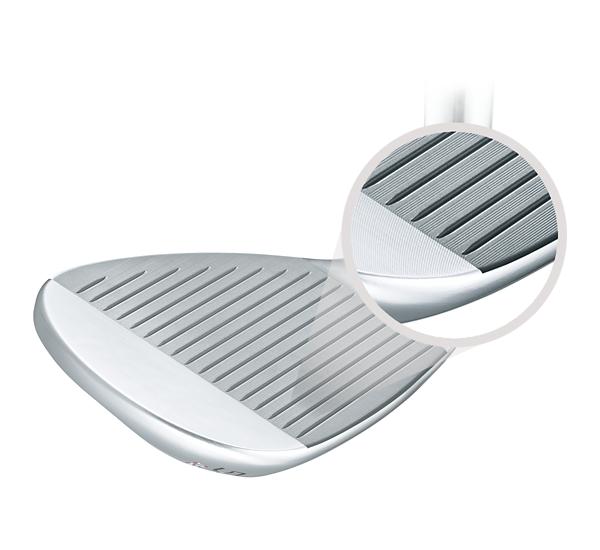 SPIN MILLED GROOVES
Vokey's Spin Milled process is unique to each finish and loft for the sharpest, most consistent groove edges. Vokey Design SM7 wedges feature a Parallel Face Texture for more consistent groove edges, tighter quality tolerances, and maximum spin. SM7 wedges also feature a distinct groove design between lofts: low lofts (46°-54°) are designed with narrower, deeper grooves, while higher lofts (56°-62°) have wider grooves. The result is superior spin and control on all wedge shots.
"WEDGES NEED TO BE VERSATILE AND EVERY PLAYER IS DIFFERENT. IT'S NEVER ONE SIZE FITS ALL FOR WEDGES. THAT'S WHY WE HAVE MANY GRIND OPTIONS."
- Bob Vokey, Master Craftsman
VOKEY TOUR VALIDATED GRINDS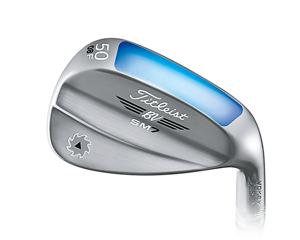 F GRIND
Full sole designed primarily for full swings & square face shots. Due to this design, it is the only grind available in 46°-52°, with the 54° and 56° F Grind being the most played SW on the PGA Tour.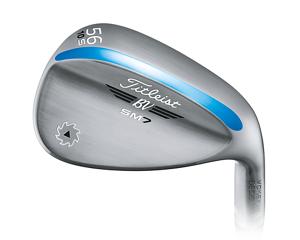 S GRIND
Design based on feedback from Steve Stricker, the S is best for square faced shots with a touch more versatility than the F Grind. Simple mechanics are best with this wedge.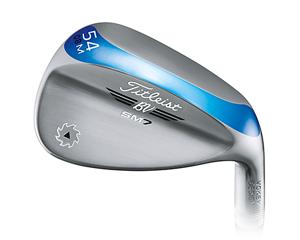 M GRIND
Voke's favorite, the M grind is designed for players that like to rotate the club face open and shut to manufacture shots around the green.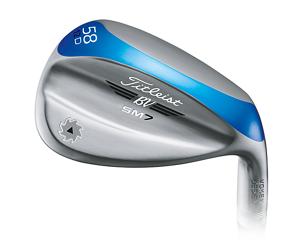 D GRIND
The player's high bounce wedge. High measured bounce with the crescent shape of the M Grind for shot making versatility.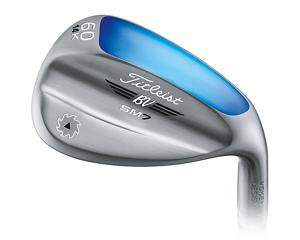 K GRIND
The highest bounce wedge in the lineup, the K Grind is the ultimate bunker club and the most forgiving wedge in the lineup for all shots.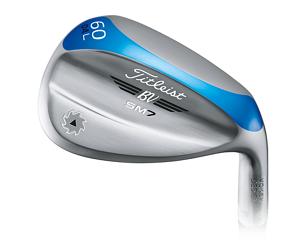 L GRIND
The L Grind features a narrow crescent shape allowing maximum green side versatility, but it is the least forgiving wedge in the lineup.
WEDGE SELECTOR TOOL
Find the ideal Vokey Design SM7 wedges for your swing type,
playing style, & course conditions.
SPECIFICATIONS
 

MODEL

LOFT

LIE

SOLE GRIND

LENGTH

SWING WEIGHT

PITCHING
 

46.10

 

46°

 

64°

 

F

 

35.75"

 

D3

 

48.10

 

48°

 

64°

 

F

 

35.75"

 

D3

GAP

 

50.08

 

50°

 

64°

 

F

 

35.50"

 

D3

 

50.12

 

50°

 

64°

 

F

 

35.50"

 

D3

 

52.08

 

52°

64°

 
 

F

 

35.50"

 

D3

 

52.12

 

52°

 

64°

 

F

 

35.50"

 

D3

SAND

 

54.08

 

54°

 

64°

 M
 

35.25"

 

D5

 

54.10

 

54°

 

64°

 S
 

35.25"

 

D5

 

54.14

 

54°

 

64°

 

F

 

35.25"

 

D5

 

56.08

 

56°

 

64°

 M
 

35.25"

 

D5

 

56.10

 

56°

 

64°

 S
 

35.25"

 

D5

 

56.14

 

56°

 

64°

 

F

 

35.25"

 

D5

LOB

 

58.04

 

58°

 

64°

 

L

 

35.00"

 

D5

 

58.08

 

58°

 

64°

 M
 

35.00"

 

D5

 

58.10

 

58°

 

64°

 S
 

35.00"

 

D5

 

58.12

 

58°

 

64°

 D

 35.00"

 
 

D5

 

58.14

 

58°

 

64°

 

K

 

35.00"

 

D5

 

60.04

 

60°

 

64°

 

L

 

35.00"

 

D5

 

60.08

 

60°

 

64°

 M
 

35.00"

 

D5

 

60.10

 

60°

 

64°

 S
 

35.00"

 

D5

 

60.12

 

60°

 

64°

 D
 

35.00"

 

D5

 

60.14

 

60°

 

64°

 

K

 

35.00"

 

D5

 

62.08

 

62°

 

64°

 M
 

35.00"

 

D5
*All wedges available in all three finishes: Tour Chrome, Brushed Steel, Jet Black
STOCK SHAFT & GRIP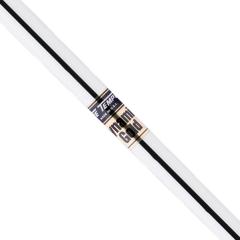 Flex: S200
Weight: 130g
Torque: 1.6°
Launch: Low